TO PURCHASE, Scroll down to see all our CAMPING Options. Some areas sell out fast, so get yours today!
Camping is definitely part of the fun at Country Concert. We offer on-site camping from $109 weekend tent camping to deluxe 50 amp and water sites. Scroll down for all the options.
Click here to buy Tickets or Seats
Click here to buy Hotel/Bus Packages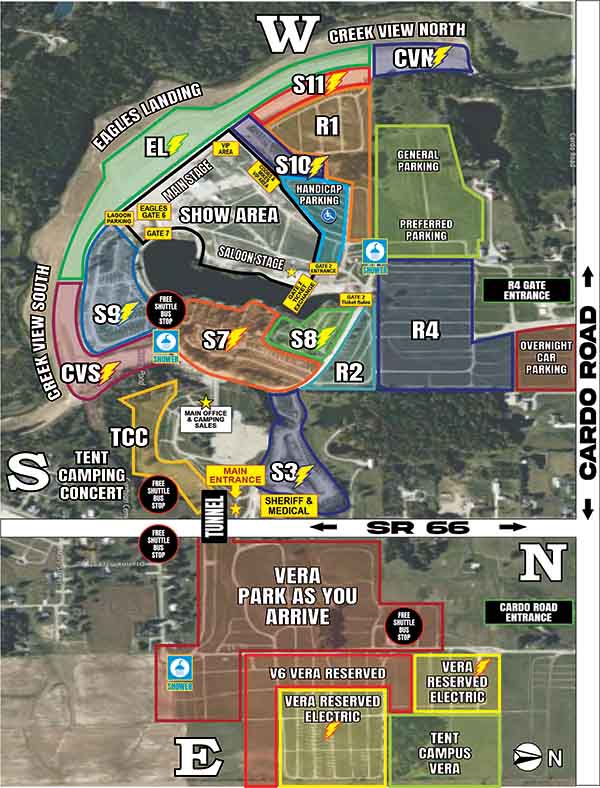 Click for a larger campground layout
All camping permits come with 1 CAMPING UNIT PASS (CAMPER OR TENT), 1 VEHICLE PASS, and 2 CAMPGROUND WRISTBANDS. Friends can stay at your campsite (8 per campsite total). Everyone in the campground needs to have an Entrance Ticket and a Campground Wristband. (HINT: Get the extra campground wristbands for your friends now at the discount price. They are listed below.)
If you have a 3 Day Entrance Wristband, Camping permits are good from Monday or Tuesday till Sunday or Wednesday till Sunday depending on the area. Check below for arrival day. Max tent size is 15' x 15' or 225 sq ft ( if it's not square ). THANKS!
If you do not have a 3 Day Entrance Wristband, you can only be in the campground the days you have Entrance Wristbands for. Example: If you have a Thursday/Friday entrance Wristband, you must leave the campground by Saturday at noon. If you have Friday/Saturday Wristband you can be in the campground beginning Friday. Everyone in the campground must also have a Camp Ground Wristband.
Click here for more information about RV Rental
Click here for more information about artists' schedule, tickets, camping, motels, and more.
If you have any questions call our ticket office. The phone number is 937-295-3000 (m-f 9AM-1PM). THANKS!!!
Hint: You have to have an entrance ticket to buy a campsite.
All sales are final, no refunds or exchanges, artist lineup is subject to change.
Sold Out Campsites are not listed for sale. If you don't see a camping area listed, it's sold out for this year. Thanks!!